Hey everyone!,
I know it's been a while since I posted a large adventure blog, but here it is!
It's a 3 part blog with all the trimmings ;P
Aimee (aka SeptemberSky) & I were invited at the last minute to an airshow out in Vegas by our good friend and photographer
partner in crime, Dagonilly!…"Thank you Dagonilly!"
THE AVIATION NATION AIRSHOW, NELLIS A.F.B.
Sunday, November 9th, 2008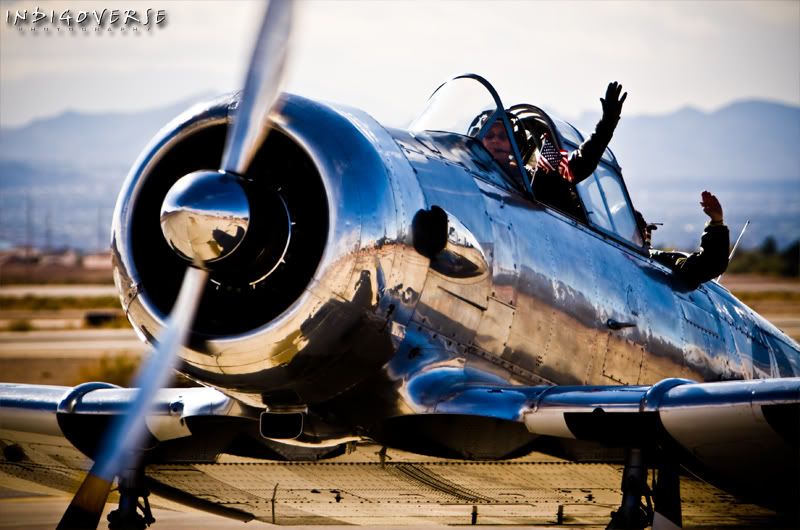 Anyhow, I have been going through some rather annoying lightheaded spells on a daily basis that are directly attributed to a bad auto accident I had in the summer of '06, but I could not let this stop me from living my life and so on the evening prior to the Airshow along with a previous day of coaxing, Aimee sent me a text asking if I was sure that I couldn't come down for the weekend, and at that point I just said "Fuck It!" and packed my bags real quick for the days to come.
The very next Morning, Aimee & I got up at the ass crack of dawn to race over to Dagonilly's house to get her and head on out to Nellis Air Force Base where today's Airshow would be held.
The weather did not look very promising, and when we arrived 8am, I was surprised to see that there were not too many people there =D
Possibly a result of the weather, but as the morning unfolded, we began to see occasional patches of blue sky above.
Anyhow, here are the shots I got for the day…
"My two partner's in crime, SeptemberSky & Dagonilly!"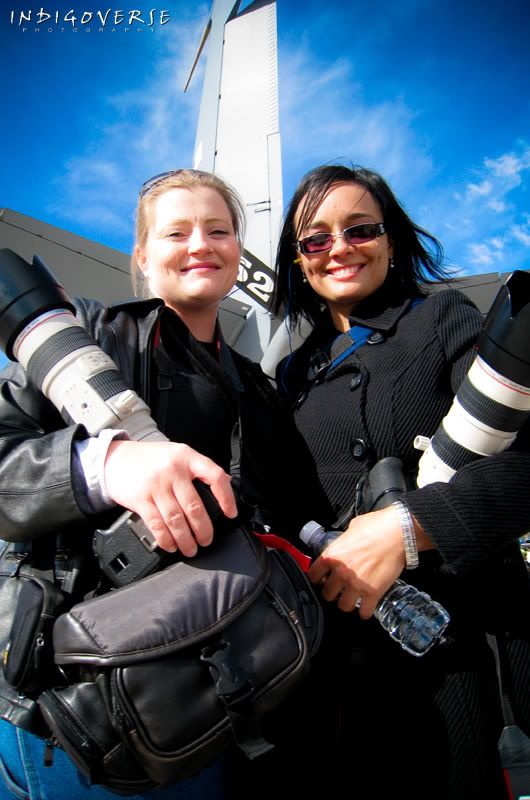 "An F-9 Panther does a very fast fly by…"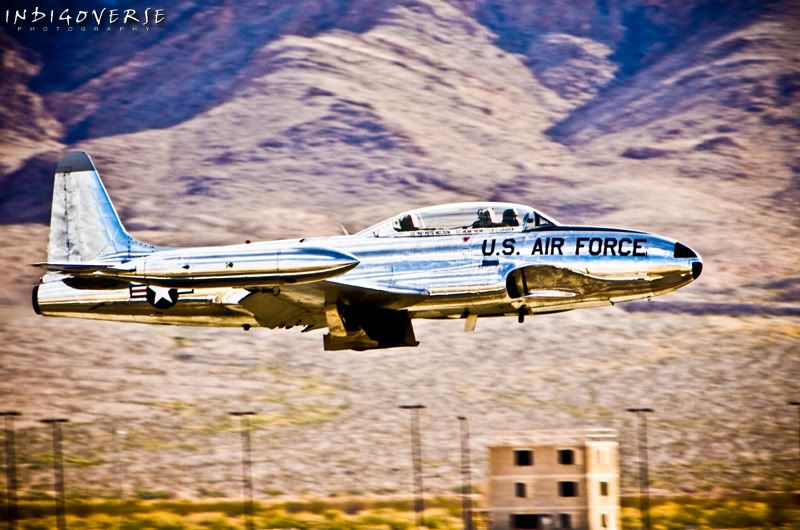 "After landing the pilot does a victory run in front of the cheering audience…"

Since this was my first airshow, I was not savvy to the procedures regarding scheduled plane take-offs
and so I had to stick around and pay close attention to other planes that were lining up on the runway's edge.
The next plane in the air was a civilian craft operated by team EG&G.
This plane was specially built to withstand excessive G-Forces brought on by some of the more extreme maneuvers
that the stunt pilot would put it through…
"Here is a typical stall maneuver…"

"A steep climb up…"

After watching this crazy stunt pilot for a while, I drifted on over to an area where I got a nice view of the Thunderbirds and their pilots, doing some final inspections on their souped up F-16's.

There were not too many people at first, but as the day went on and the weather stayed reasonable, more people showed up to catch the show…
"There was a large row of big planes with total access to walk inside and out…"

"The front end of a Sikorsky CH53E Super Stallion…"

"The Tail end of a KC-10 Extender (a mid air refueler)"

"Next up was the Royal Netherland Air Force and their Awesome F-16 Pilot!"

"A better, closer view…"

After spending a significant amount of time at the side of the runway, Aimee and I took off to find Dagonilly for a quick lunch and a refreshing drink ;P
"Unfortunately, the Airshow did not think of providing seats for anyone who was interested in eating lunch,
so the tarmac was the next best spot…"

After a fast lunch, we split off to check out the next pilot, but he had just finished
However, a new plane was ready for take off and it was Huge!!!
"A 400,000lb C-17 Globemaster III…"

Next runner up was the Red Bull Edge!
"Red bull gives you wings?…"

"A hard 10 G bank…"

"When the Red Bull Edge landed, The Red Bull Mig took off!"

While the Mig was in the air, the Air Force decided to bring out their own wicked creation for a race,
It was a jet car powered by a single F-16 engine!
"Here it is doing a test burn before the race…"

"Once the Mig came around and line itself up with the Jet Car, the race was on!!!"

Surprisingly, the Mig lost!…That Jet Car was really fast!…
Up next was the world famous "Team Oracle!"

"Rising to the Occasion…"

"The pilot flies in at just 8ft off the ground!"

"Eventually, the pilot does a victory lap while executing a helicopter pass…"

"After the Team Oracle spectacle, an F-22 Raptor, roared off the tarmac and into the air…"

"In case you wondered where this fighter keeps it's medicine, the pilot does a slow pass while
he opens the missle/bombay doors…"

When the Raptor was finished showing off, he was joined by an F-15 Eagle & a P-51 Mustang which
I did not catch earleir, but I was fortunate enough to get them this time, but in formation with the Raptor
for what is referred to as a Historical Flight,…"Very Awesome!"

When the historical flight came to an end, everyone at the show turned their attention to the 6 roaring jet engines
of the famous Thunderbirds as they made final preparations to take off.
"This is a large pano of the Thunderbirds…"(click the pic for a larger version at my DeviantArt account!)

"And their off!…"

After the Thunderbirds finished their flight, the show came to an end.
The timing could not have been more perfect, for it started to rain and we saw a very large rainbow…
Such a perfect end to an awesome day!
But not as perfect as the delicious Rib Eye Steak & Baby Back Rib dinner that we had at the Memphis BBQ where we
followed Dagonilly to start her shift for the night!…

"Thanks to Dagonilly, I got to see my first Airshow!!!"
"Cheers!"
~Indigo .H
Just in case you came in at the beginning of this trilogy…
Check Out:
©2005-2009 Indigoverse Photography. All Rights Reserved.